Anna Cole, Office Manager
Anna's bright smile greets our patients as they first arrive into the office. She serves as the backbone of our office. She runs the front desk Monday through Friday with her helpful cohort, Yolanda. Anna also does our billling and can answer all your questions regarding insurance. Her friendliness and expertise continually enhances the workings of our office.
Yolanda Barber, LMT and Chiropractic Assistant
Yolanda works on the floor with Dr. Burak. When you arrive she will sign you into your appointment and assist the doctor with your care. She is also an expert massage therapist. Yolanda received her massage therapy education from the National Massage Therapy Institute in Philadelphia and has been nationally certified and licensed in the state of Pennsylvania since 2011. She is formally trained in Swedish, Deep Tissue and Prenatal massage modalities and has worked exclusively in wellness spas and chiropractic offices. Her additional education in sports massage techniques and trigger point therapy have helped her achieve success in her work.
Prior to becoming a massage therapist, Yolanda attended Temple University and received a Bachelors of Science in Recreational Therapy in 2004. She worked for several years thereafter in nursing homes, assisted living facilities and metal health programs where she directed activities departments and developed care plans.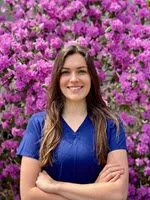 Tess Hansler, LMT

Tess works here once a month on a Saturday. She received her massage therapy license in September 2019 through the Montgomery County Community College program. Before attending massage therapy school, she attended Delaware Valley University where she earned her B.S. in Equine Science and Business Management.
Dr. Burak was her equine massage therapy professor, and he sparked her interest in the massage world. Outside of work she enjoys both playing and watching sports, as well as spending time with her animals!
Carly Apfelbaum, Receptionist
Carly is a full time educator and has taught first grade since 2016. She is married to her wonderful husband, Dave and has two beautiful children named Parker and Jordyn. She also blesses us with her presence here as part time receptionist. You will see her mostly on Saturday mornings answering phones, greeting patients and making sure everyone is comfortable. She looks forward to seeing you!
Tegan Blair, Chiropractic Assistant